Remote working is still a reality for many businesses, despite the UK's mass vaccination programme, as businesses have become used to a more hybrid way of working to save money on office costs and travel, while staff enjoy a more balanced work-home life.
We have helped our customers through the pandemic and beyond using our unified communications (UC) solution from Wildix. We are a Wildix Platinum Partner and we were the Top Wildix UK Partner for the last two years after successfully deploying their solutions to businesses and organisations of all sizes to meet their needs for a phone system.
But we don't just communicate via the phone. Away from work, we use instant messaging and video calling alongside email on a daily basis. We want the same familiar functionality from all our work devices, especially when we work from home, and for them to integrate with our phone systems and corporate directories.
This is where Wildix comes into its own. It blends multiple communications tools in one solution to ensure staff can collaborate easily and, crucially, customers can contact your business with ease, wherever your staff are working.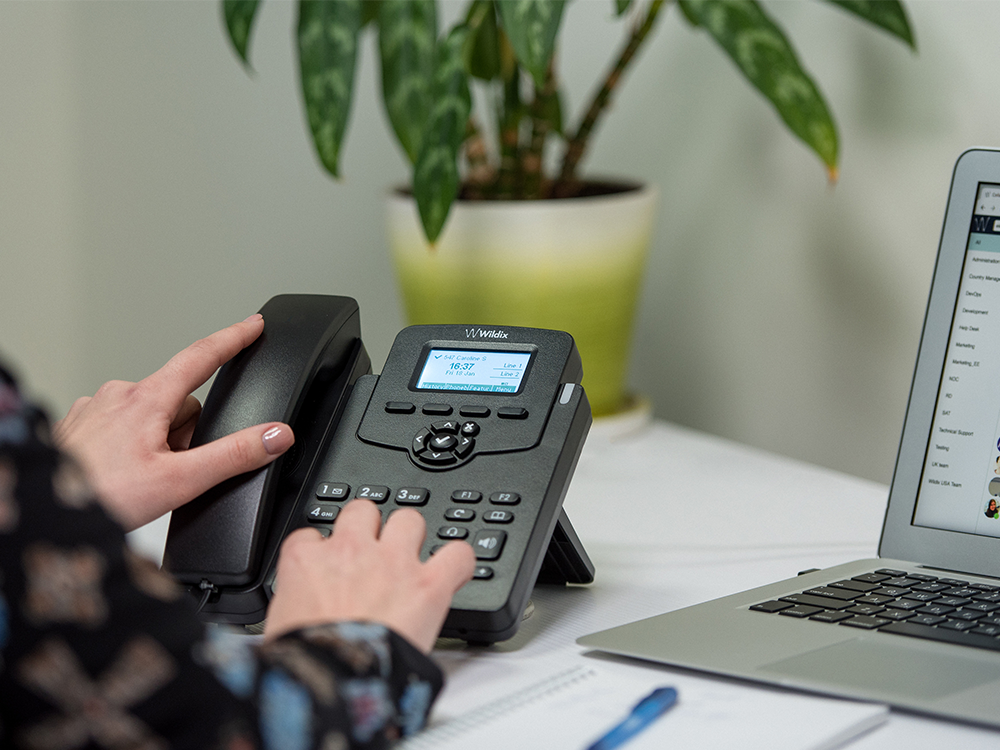 But whereas we are used to downloading apps to communicate with each other, such as WhatsApp at home or Microsoft Teams at work, all Wildix needs is a web browser. Existing or prospective customers can view your staff's presence on the contact page of your website to initiate an audio or video call, to send an instant message or email, or to book an appointment with them. There is no need for your them to download a separate app to do this as this would probably discourage them from making contact! The same contact links are available on individual email signatures too.
For internal staff, they can use the same UC tools via the Wildix browser-based Collaboration app on their PCs and mobile devices. They can quickly view their colleagues' presence – offline, in a meeting, on the phone, etc. – with clear indicators in different colours and choose how to contact them. Audio and video calls can be received and made via desk phones (video is only available on certain models) and PC softphones or mobiles to ensure everyone remains contactable wherever they are working. It's all part of the same system. You can share documents with ease too.
At Taurus, we used Wildix throughout lockdown and into the new hybrid working environment we now find ourselves in. If an office-based colleague wants to call me at home, they simply select my extension on their handset, just as if I was still in the office, and they can call my mobile or PC without incurring any cost. If fellow remote working colleagues want to contact me, they can select my extension from the app on their mobile or PC. For people outside the business, they use just one number to contact me as my mobile, PC and desk phones will ring simultaneously.
Meanwhile, they can contact me with a quick instant message, just as if they were leaning over a desk or turning their chair to ask me a question. Or we can have a quick video chat if they see I am available or can book a more formal video or audio meeting to invite relevant colleagues to discuss a project.
It's not enough to just rely on a phone system anymore when there are so many other communications options available to help us work in the hybrid era. Not only do we want to use the different channels we are used to but want to encourage customers to contact us in the way they feel most comfortable using.
Wildix helps us stay in touch even though we are currently working from many different locations using a blend of devices. Just because we are not all in the same place, it does not mean decisions have to be delayed and productivity is actually enhanced. UC solutions like Wildix are key for home workers and businesses that are willing to embrace a long-term hybrid working strategy.
Do not hesitate to talk to Taurus if you are looking for a UC solution for your business.
Our Accreditations and Partners