Microsoft Teams has been around for a few years now.  Pre-lockdown, Teams was gaining traction with user adoption, but the coronavirus pandemic has brought a surge of new users on an epic scale.  At the end of 2019, there were 20 million+ Teams users. By March 2020, adoption rose to 44 million, and in April it skyrocketed to more than 75 million users!
It's the fastest growing application in Microsoft history, and not by accident. Developers at Microsoft, seeing the benefits of apps such as Slack and Zoom, created this competing platform that could be rolled out to users for free as part of an Office 365 subscription.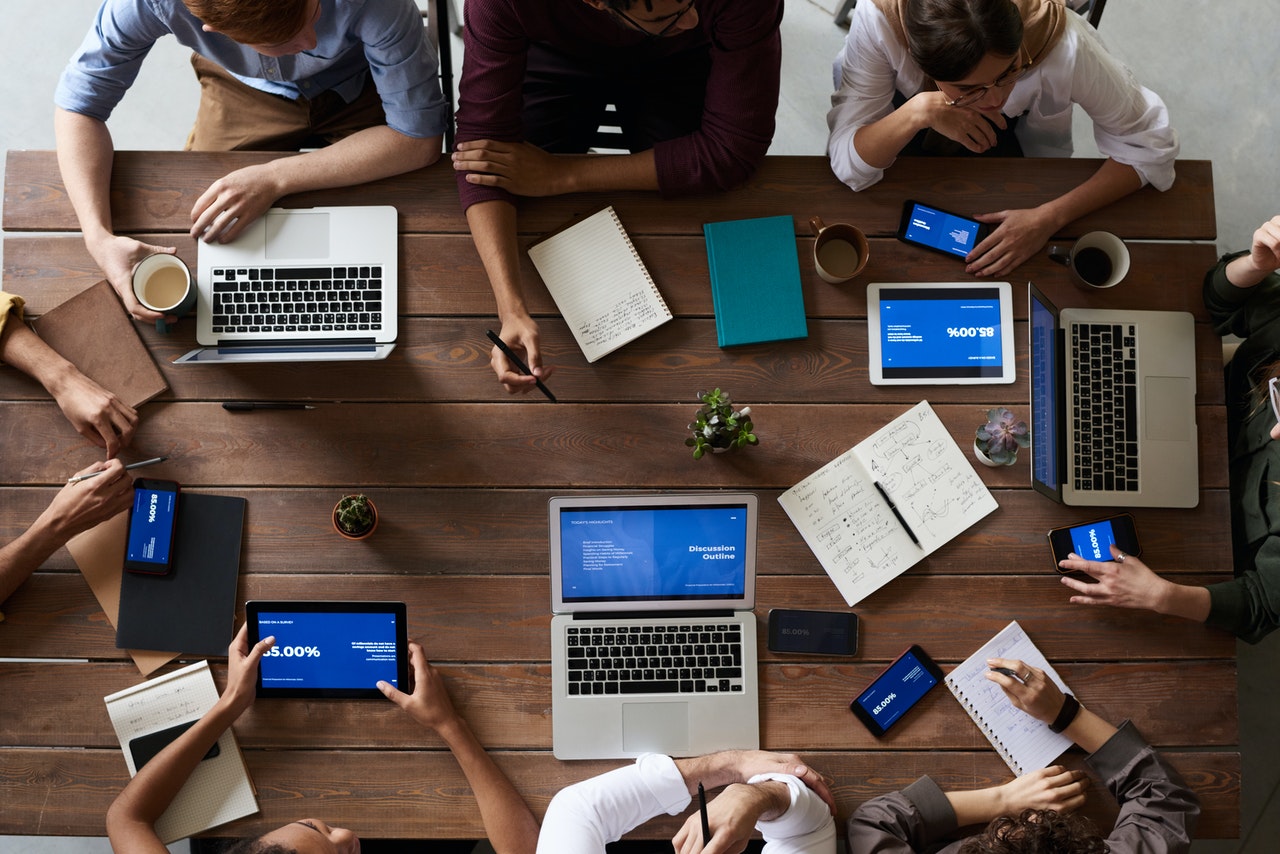 Now that we're all using Microsoft Teams…
Users have been finding there are a lot of benefits to Teams that help organise teamwork, files, share documents, and more.  Teams also delivers some Unified Communications (UC) functions such as messaging, conferencing, and video calling.  There is a logical next step:
I want my phone calls to come through Microsoft Teams!
It is important to understand why your organisation adopted Teams in the first place. Some organisations like the UC capabilities of Teams, but more often, adoptions work around the benefits to business processes that Teams provides. This is what Teams was initially designed to deliver: document management and storage, collaboration, database access, and workflow management.
The reality is…
Telephone system deployment through Teams can be painful, lengthy and complicated.  Whilst Teams is included in Office 365 plans, many do not realise that telephony is not! To use Teams as a phone system you are required to purchase further licences, and a calling plan.  The cost of these licences and services can really start to mount.
However, the single biggest issue with Microsoft Teams deployed as a telephone system is it's lack of basic telephony features.  Businesses have come to expect a certain level of functionality and customisation that Teams simply doesn't offer; and as this is Microsoft's fourth attempt at a voice solution its hard to see that this will make up any part of a future offering.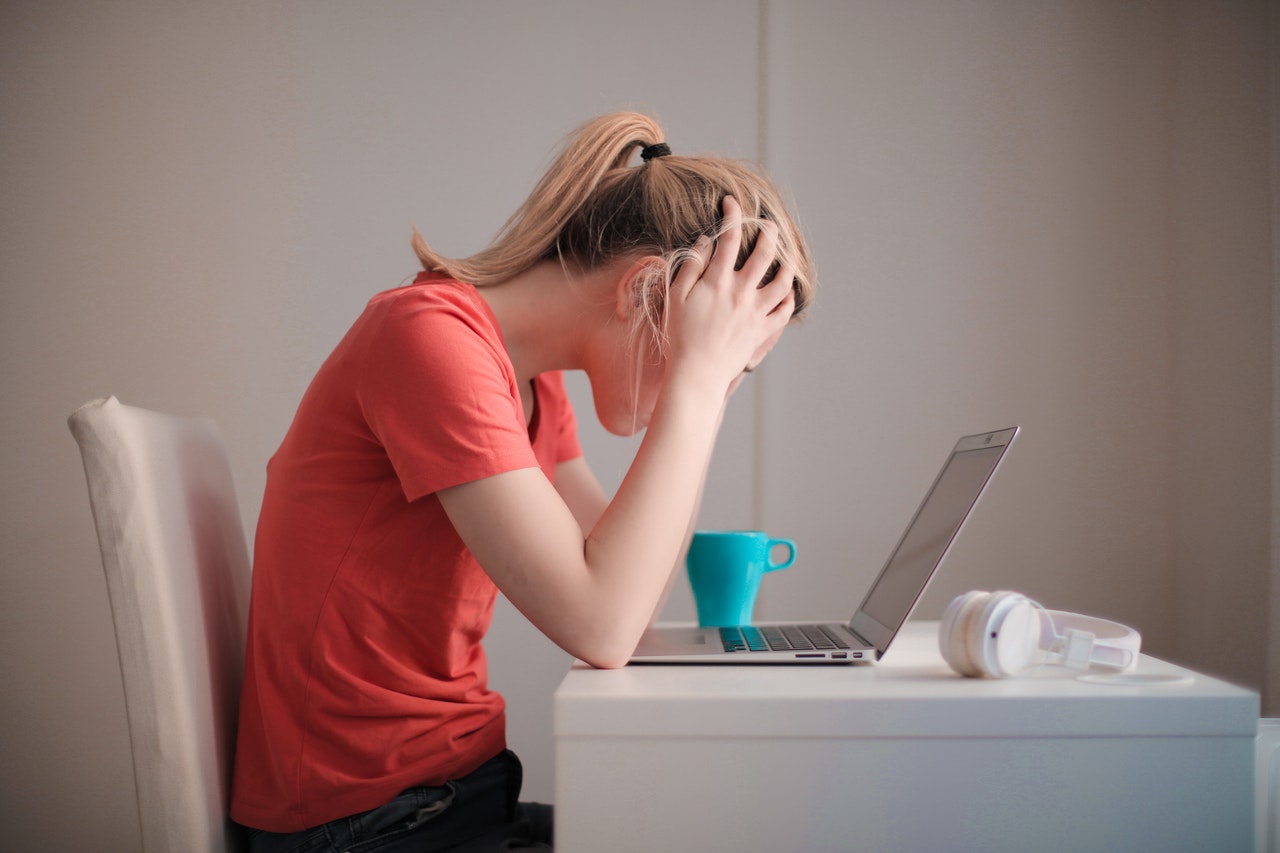 Some examples of functions that are missing:
No advance call routing
Only basic single auto-attendant
No barring for particular numbers such as premium rate numbers
No overflow groups
Limited music-on-hold options
No audio call recording
Limited call reporting
No analytics
But wait, there's more…
Another significant hurdle is that Microsoft does not manufacture any hardware for Microsoft Teams. Here at Taurus, we have been supporting telecommunications and data networks for a long time.  Taurus, and every IT support company, relies on the relationships of manufacturing partners to assist with the customer support that is delivered—from fault fixing to warranty repairs. If the hardware backbone of a network can't be guaranteed for support alongside the applications there is a potential for massive costs down the road. With telephony, this could be network switching, gateways, handsets or headsets, and the hope that the manufacturers and Microsoft will continue to want to integrate—not just the current versions of software, but for all future versions as well.
We must all recognise that overall Microsoft Teams is an extremely powerful and productive piece of software.  Yes, it is clearly lacking in some of the telephony functions, but it remains an amazingly powerful tool for business.
Wouldn't it be great if we could have it all? (the Good News)
We hear this from many of our customers and we can! Taurus can deliver a completely consistent Microsoft Teams user experience whilst delivering the critical functions you expect from you're your telephone system that are sadly missing in Microsoft direct deployments. Your users will be able to use Teams to increase their productivity via desktop or mobile, but without having to compromise on functionality.
This table shows the deficit of features of Teams in regards to telephony that Taurus is able to deliver.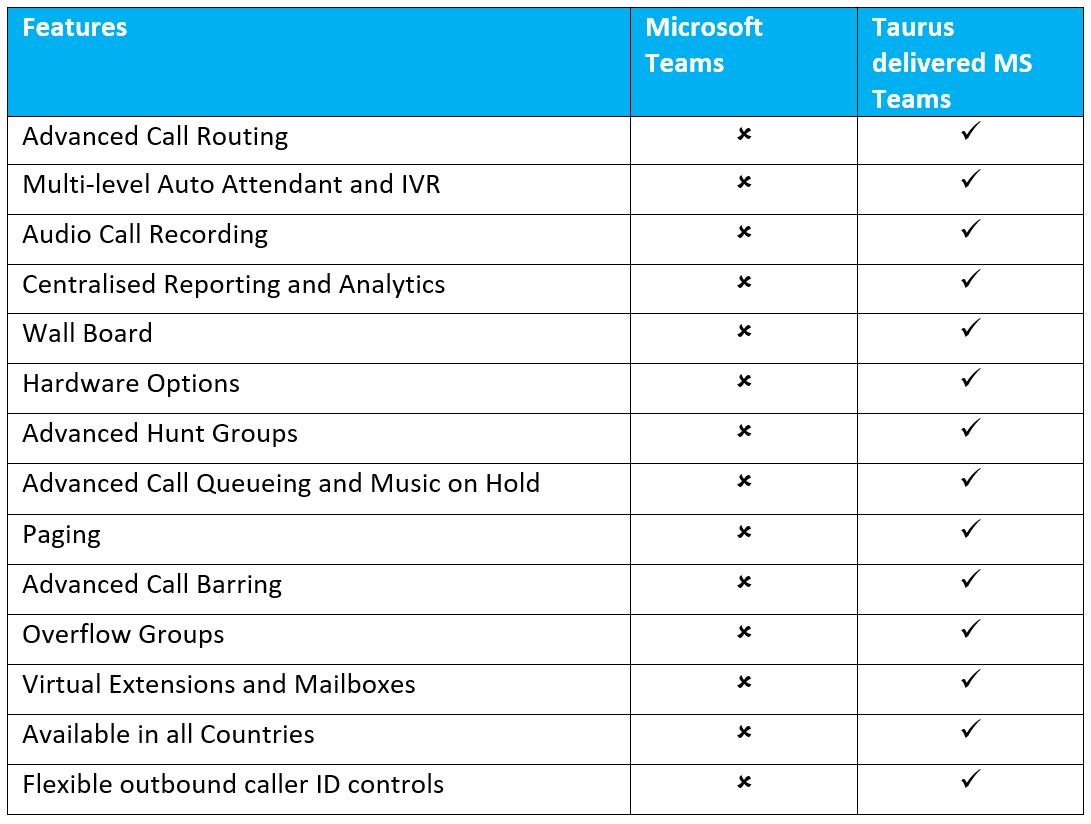 At Taurus, we strive to be the company of choice for business telephony, IT support, and mobile needs.  We work to create partnerships that deliver the most flexible, secure, and industry-leading solutions to our customers.
Through our deployment of telephony integrating with MS Teams, users will have the functions that they require and be able to achieve this through the Teams interface.  There are a few pieces that make up this solution, but at its core is Wildix , you can see more about our delivery of Wildix here. Wildix has become our flagship telephony product. Its easy deployment and depth of features make it easy to see why.
We'd welcome the opportunity to discuss if our solutions would be appropriate for your business.
Our Accreditations and Partners